King's Park Fort, Stirling
(14th – 19th August 2022)
(Can't make it? See below for alternatives)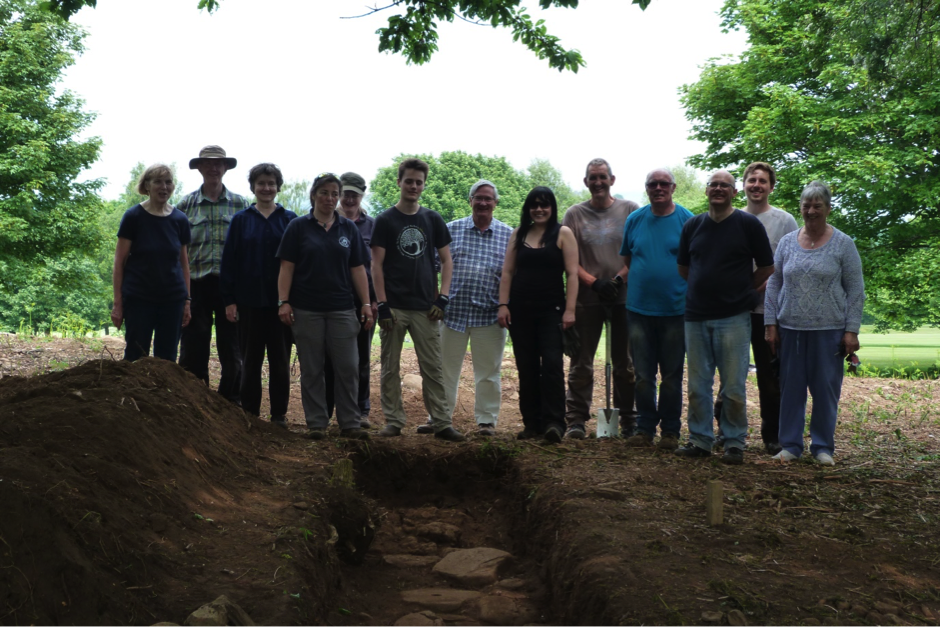 King's Park 2017 season volunteers
The King's Park, Stirling, is the oldest and best preserved Royal Park in Scotland and surrounds Stirling Castle, the ancient capital of Scotland. In December 2017, path works within the castle identified a previously unrecorded late prehistoric defended fort, built on the highest point in the park and right next to a golf course!
Stirling sits at the lowest crossing point of the River Forth and was the only way for armies to invade or resist invasion and of course played a key role in both the Battle of Stirling Bridge and the Battle of Bannockburn. The same factors exploited by Bruce and Wallace also influenced the Roman occupation of Scotland and the King's Park fort most likely dates to this period when a series of enclosures where built at key locations to exploit Roman trade with northern Scotland.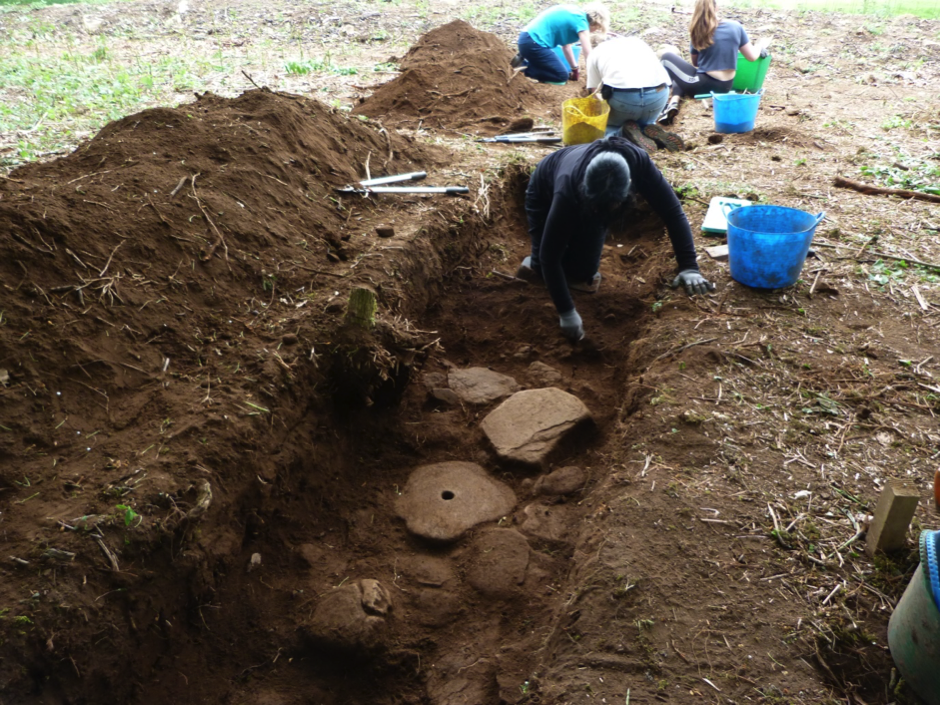 The interior of the fort under excavation, revealing a rotary quern that was reused as paving
Join us as we continue to uncover the King's Park Fort!
The King's Park fort is part of a long term, relaxed and open series of projects to explore the Late Prehistoric settlement patterns of the Forth Valley and will run from the 14th to 19th August 2022. The project will be run by Dr Murray Cook and you can read more about Murray's wider research at SCARF and at Stirling Archaeology on Facebook.
The newly discovered fort under excavation in 2019
Sign up
For more information, or to book your place contact the Project Director Dr Murray Cook at: info@rampartscotland.co.uk
The King' Park Fort is the latest season in an ongoing program of research into Forth Valley's Late Prehistoric settlement pattern and how the native peoples interacted with the Roman conquest.
The training is relaxed and easy going and you can learn as much or as little as you want to. You will have the opportunity to excavate archaeological remains that have never been examined before.
COVID-19 ADVICE: Please note that due to the global situation concerning the Covid-19 pandemic, the dates for our 2022 season are subject to potential change or cancellation should the dig be impacted by measures to contain the virus
Project Dates: 14th to 19th August 2022
Location: City of Stirling, Scotland.
Contribution: £300 UK pounds or £50 a day, no minimum attendance. The price only includes training and participation in the project, you must provide your own food and accommodation (N.B. Deposit of £100 is non-refundable).
Project type: Open to students and volunteers (minimum age accepted: 17 years old) – Places are limited so early booking is recommended.
Accommodation: No accommodation provided but there are numerous hostels, B&Bs and hotels in Stirling and the site is a 10 minute walk from the city centre..
Experience required: None, as professional archaeologists will always be on-site to provide guidance.
Other activities: We hope to organise two trips to see contemporary sites in the evening .
What to wear: Scottish weather can change at any time, sometimes with four seasons in one day. It is recommended that you come prepared with a range of clothing including clothes for sunny weather, cold weather and hard rain; light-weight clothing, a waterproof coat and stout boots, sun block and a hat are suggested.
Can't make the either Battle Hill or King's Park excavations, but are still interested in a dig? Why not contact us for a bespoke dig designed around what you want to do and learn? Dr Murray Cook is happy to organise a unique one-to-one excavation experience to suit you. These will be focused on a possible broch near Stirling that has never been dug before and is associated with Neolithic/Bronze Age activity.
For more information and prices contact Murray on info@rampartscotland.co.uk