Battle Hill – Prehistoric Landscape Project
(12th – 22nd July 2022)
(Can't make it? See below for alternatives)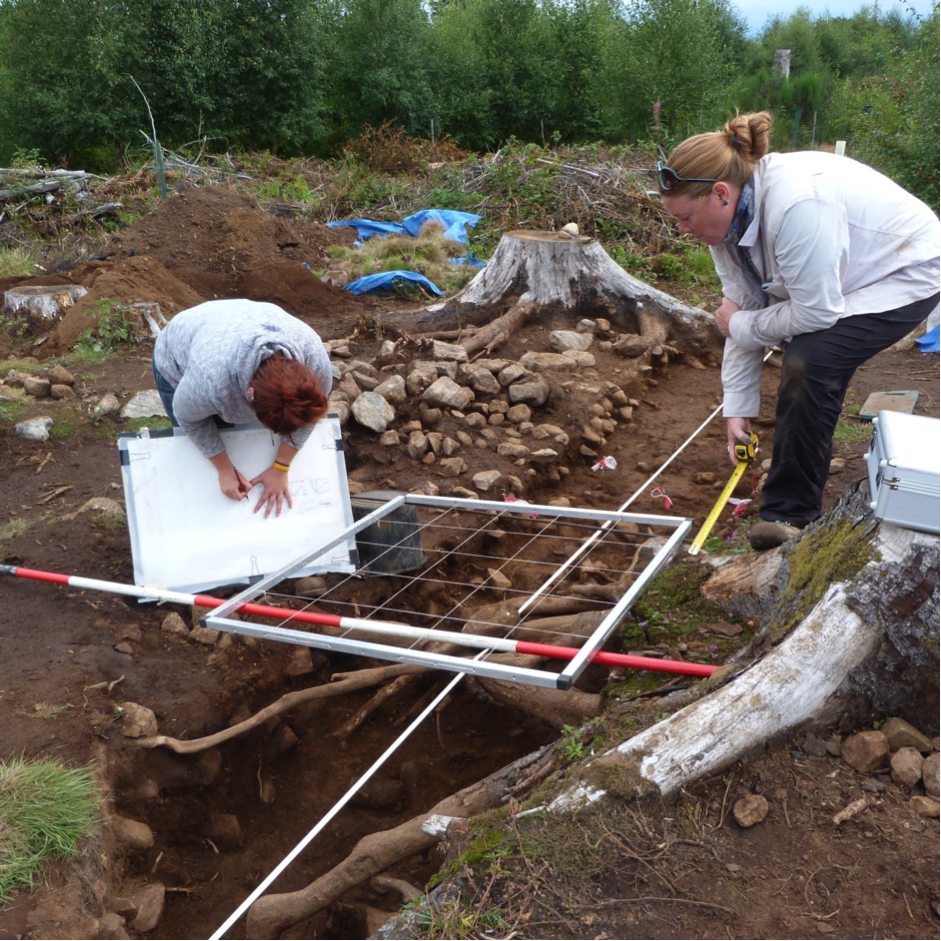 Volunteers recording the banked cairn
Battle Hill, Huntly – named after a daring raid in 1307 during the Scottish Wars of Independence – contains a variety of previously unmapped prehistoric sites including Mesolithic, Neolithic and Bronze Age lithic scatters, a possible Iron Age hillfort, and a 3000 year old upstanding hut circle as well as a potential Neolithic/Bronze Age cairn measuring 20-30m in diameter and up to 3m high! Hillforts are elite Iron Age settlements often surrounded by banks, ditches and palisades, found in prominent locations such as Battle Hill.
Battle Hill preserves a prehistoric landscape built on higher, more marginal ground at a time when the climate was warmer meaning it was possible to live there. As the climate worsened the structures were abandoned. Avoided by subsequent farmers who built and farmed around them, the remains eventually became preserved within the forest itself.

The large cairn under excavation, image© D. Connolly, Skyscape Survey 2018
Join us as we continue the first excavation of Battle Hill and uncover its rich secrets!
The Battle Hill Prehistoric Landscape Project is the 21st season of a long-term, relaxed and open series of research and training excavations into Prehistoric Aberdeenshire and will run from the 12th to 22nd July 2022. The project has to date produced over 12 publications and Dr Murray Cook's PhD. You can read more about the archaeological landscape and some of the work we've done here.
The 2019 season identified a new possible cairn under a 1000 year old bank and revealed more features of the 2500 year old hillfort.
You can view the 2017 report here to find out more about the site and what we've been up to.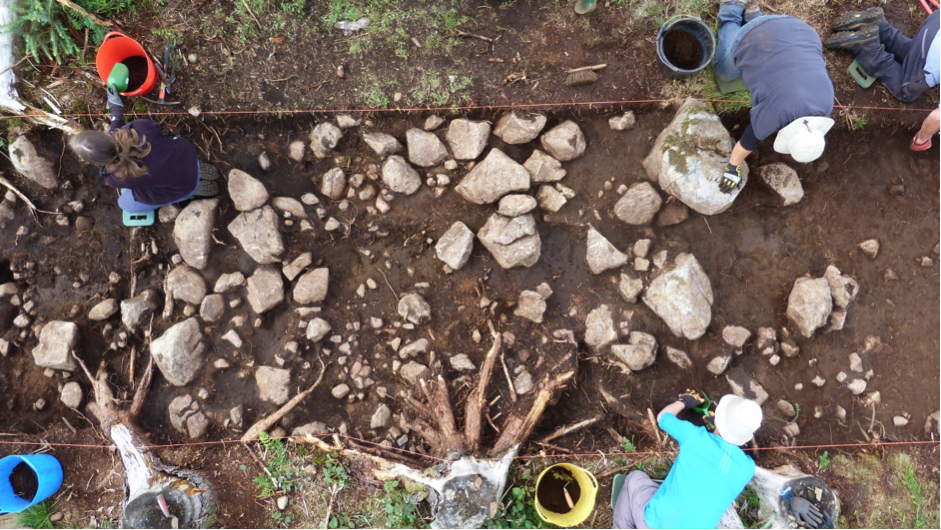 The hillfort rampart under excavation
Sign up
For more information, or to book your place contact the Project Director Murray Cook at: info@rampartscotland.co.uk
The Battle Hill Prehistoric Landscape Project is the latest season of research into Aberdeenshire's prehistoric settlement patterns. Previous seasons have explored Roman marching Camps, vitrified forts, Pictish settlement and Mesolithic, Neolithic and Bronze Age lithic sites and cairns.
The training is relaxed and easy going and you can learn as much or as little as you want to. You will have the opportunity to excavate archaeological remains that have never been examined before.
COVID-19 ADVICE: Please note that due to the global situation concerning the Covid-19 pandemic, the dates for our 2022 season are subject to potential change or cancellation should the dig be impacted by measures to contain the virus
Project Dates: 12th to 22nd July 2022
Location: Huntly, Aberdeenshire, north-east Scotland.
Contribution: £500 UK pounds or £50 a day. The price excludes accommodation and, food. Transport to and from the site can be organised for those staying locally. (N.B. Deposit of £200 is non-refundable).
Project type: Open to students and volunteers (minimum age accepted: 17 years old) – Places are limited so early booking is recommended.
Experience required: None, as professional archaeologists will always be on-site to provide guidance.
Other activities: Trips to local archaeological/historical sites.
What to wear: Scottish weather can change at any time, sometimes with four seasons in one day. It is recommended that you come prepared with a range of clothing including clothes for sunny weather, cold weather and hard rain; light-weight clothing, a waterproof coat and stout boots, sun block and a hat are suggested.
The Battle Hill Prehistoric Landscape Project is co-directed by Dr Murray Cook and run in partnership with Aberdeenshire Council.
Can't make the either Battle Hill or King's Park excavations, but are still interested in a dig? Why not contact us for a bespoke dig designed around what you want to do and learn? Dr Murray Cook is happy to organise a unique one-to-one excavation experience to suit you. These will be focused on a possible broch near Stirling that has never been dug before and is associated with Neolithic/Bronze Age activity.
For more information and prices contact Murray on info@rampartscotland.co.uk